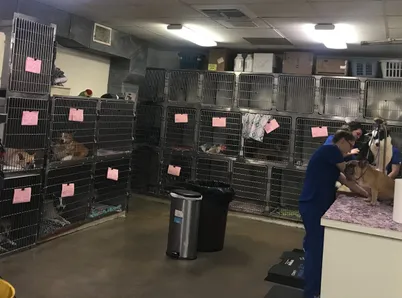 For many pet owners, the idea of leaving a pet at a boarding facility sounds frightening. Many people don't trust kennels, but they do trust a veterinarian. That's why our animal hospital offers pet boarding as well. Shelley Drive Animal Clinic in Tyler can provide veterinary services as well as boarding. Here are some of the many reasons why choosing our boarding facility is the best option for you and your pet.
Safety and Security
One of the most important factors involved in leaving your pet while you go on a work trip or vacation is the safety and security of your pet. You can count on a veterinary office to understand your pet's needs and how to keep them safe. A lot of this comes from experience as well as offering a facility that is secure and designed with your pet's needs in mind.
Health and Stability
Our boarding facility has requirements in place for boarding your pets. This means your pet will have to be up to date on its vaccines in order to stay here. The good news is that other pets will also have these vaccines. This puts your pet at lower risk of catching diseases and infections, including kennel cough and parvo.
If something happens to your pet while at our boarding facility, you can also count on our veterinary team to provide effective treatment quickly. The goal will be to provide treatment to prevent your pet's condition or injury from worsening. You will also be contacted right away and receive continuous updates, something that would not happen if you left your pet alone.
Rest and Relaxation
Your pet will be able to relax at our boarding facility, settling into a new routine for a few days. In fact, sometimes the time spent at a boarding facility is just as relaxing for the pet as time away is for the owner. Your pet will be able to spend time playing and resting while also being able to socialize with our caretakers and other boarded pets.
Visit Us for Pet Care from Our Vets in Tyler, TX
If you still have questions about boarding your pet at our animal hospital, why not come in for a visit? You can take a look at the kennels and decide for yourself what kind of boarding option is right for your pet. Shelley Drive Animal Clinic provides Tyler pets the care they need to live long and healthy lives. That's why we offer personalized boarding care at our facility for those times when you need to be away from your furry friend. If you are interested in learning more about our pet boarding or scheduling your animal's next appointment, contact our clinic today.